iPhone 10 Release date, Specification, Price, Features to Expect!
Apple iPhone 101
begin with iPhone 3G on June, 11 2008. The world of the mobile phone changed forever. It happened when Apple, the Cupertino-based technology company, introduced its first smartphone, named
iPhone 3G
. The smart mobile handset becomes so huge success that, it is now the world most popular smartphone brand today.
With every generation of iPhone, there is some new features and enhancement with
iOS upgrade
. The iPhone 6 and iPhone 6 Plus had broken the all expected sales records. Yet, Apple is fully aware of the fact that they are in a very competitive market.
Android smartphones
are giving a neck to neck competition to iPhone. If Apple wants to stay on top of the mobile market, it need keep improving iPhone features substantially with every generation.
Apple iPhone rumors
are never insufficient. Same is the case when it comes to the questions like how iPhone 10 will look like? What is expected in
iPhone 10th generation
and when is
iPhone 10 coming out
? The iPhone 10 release date is way far away as yet and the rumors about the same started to surface even on well-known tech blogs.
Most of the
iPhone 10 rumors
and iPhone 10 pictures circulating over the internet are educated guessworks based on technology innovation insights and anticipated breakthroughs in smartphone industry in upcoming years. It ranges from the new iPhone 10 size to its ultra-advanced hardware specification. The need for home screen button in the future has always been a much-debated topic. One thing we probably are going to see for sure is the enormous advancement in the iPhone 10 battery life.
iPhone 10 Release date, Specification, Price, and Features to Expect!
Let's summarize and analyze what can be expected from Apple with the upcoming iPhone 10 release featuring iOS 16th generation mobile software:
iPhone 10 Release date
Apple
iPhone 7
is coming out in September 2016 along with
iPhone 7 Plus
. Let's look at
iPhones history
to know the upcoming
iPhone 10 release date
:
iPhone 3G released on July 11, 2008
iPhone 3GS released on June 19, 2009
iPhone 4 released on June 24, 2010
iPhone 4S released on October 4, 2011
iPhone 5 released on September 12, 2012
iPhone 5S released on September 29, 2013
iPhone 6 released on September 19, 2014
iPhone 6S released on September 19, 2015
iPhone 7 released date is expected to be September, 2016
iPhone 7S released date is expected to be September, 2017
iPhone 8 released date is expected to be September, 2018
iPhone 8S released date is expected to be September, 2019
iPhone 9 released date is expected to be September, 2020
iPhone 9S released date is expected to be September, 2021
iPhone 10 released date is expected to be September, 2022
Looking at the iPhone history of release, you can work out by yourself, that the
iPhone 10 is coming out in 2022
probably alongwith
iPhone 10 Plus
.
iPhone Price as 100 dollars smartphone
While some people might like to buy
iPhone 1000 dollars
(USD) titanium cases, mostly won't. The prices of automobile decreased greatly with the advancement of industrial automation. Thanks to robotics and artificial intelligence, the product costs are expected to reduce further due to automation in manufacturing, testing, packing and shipping. How about getting an iPhone 10 in $100 USD? Experts believe that in 2012, the
iPhone 100 dollars
dream is achievable.
Apple iPhone 10 Specifications
Some industry expects believe it is comping with the biggest design change. We are talking about a future iPhone 6 year ahead. In this period, any patents that are filed for reference design changes and technology improvements will have enough time to be registered and approved. Let's check out what new
iPhone 10 specifications
and features we can expect to see with this model:
| | |
| --- | --- |
| Specifications | iPhone 10 Specs |
| Display | 5.1" 12K display |
| Camera | Optical image stabilization plus, geo tagging, facial recognition, 4D |
| Camera Front | 60 Megapixels |
| Camera Rear | 125 Megapixels |
| Processor | 2x Octa-core A15 processor |
| RAM | 25 GB RAM |
| Memory | 512 GB, 1 TB , and 2B internal memory |
| Battery | iBattery Just Charge One in Month |
| Features | ION Premium Glass, 5G , Bluetooth 9.0, retina/iris scanner, wireless charging, quick charge, mini projector, 3D holographic keyborad, calling and games |
| Software | iOS 16 |
| Colors | Grey, Gold, Silver, White, Changeable Color |
Apple iPhone 10 features to expect in future
From iPhone 3G launch 2008 to
iPhone 7 release
in 2016, our phones has been continuously getting smarter, bigger, better, faster, slimmer and more useful. The computers have eliminated the needs for clock, calculator, fax machine, pen, calendar, newpaper, books, maps, notebook, dairies and jounals, writingpads and sticky notes from the desk. Here is 5 seconds animation on how evolution of computer and smartphone has virtually replaced everything on our desktop: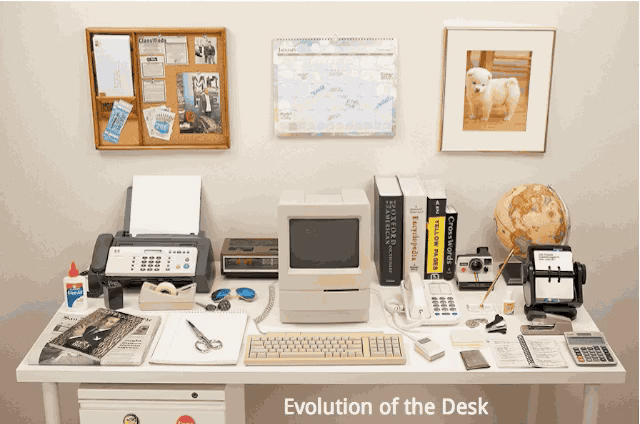 Smartphone are modern day computers. Today, smartphone (and tablets) has almost has replaced the conventional computing devices. Let's look at what iPhone 10 feature we can expect in future:
Longer Battery Life

The battery of the iPhone has always been a sore topic. It never lasts long enough between charges and Apple are aware that it is something that definitely needs to be improved. Hopefully with the additional work they are performing on the Apple watch battery, they may find a technology that can also be passed onto the next iPhone. Or if a new charging mechanism can not be introduced, such as solar power, maybe it is possible to introduce a quicker way to charge the battery i.e. The current iPhone charger specs are 5 volts, 1 amp, which emit 5 watts of power, so maybe it is possible to increase the watts of power that is omitted from the charger, which would then, in turn, increase the speed that the iPhone battery takes to charge? It is rumoured that the iPhone 7 may even be launched with a battery that lasts a week between charges! if this is the technology that is being brought in in the next year, we should expect Apple to have at least that equivalent.

Wireless Charging

Cordless charging systems are available for iPhones. But we believe they should be standard. And imagine if all smartphones could be charged the same way. Whenever you are at an airport, on a train, in a library or even sat in Macdonalds for example, there could be charging booth that you simply place your handset into, without the need of a lead or cable. Leave for 30 minutes and job is done, your smartphone is recharged.

3D holographic display screen

The 3D technology is not new and has been around for a while on such handsets as the LG Optimus 3D MAX. Nintendo brought out the 3D version of their handheld game console and after initial complaints with reference to headaches etc. It soon became established as a big selling device.




Therefore, it is expected that Apple will introduce the same technology. It would be good to have the option without having to install an app. We will wait and see.

iPhone Projector, and long dream feature

The projector feature has been talked about ever since the iPhone 4 came out. There has been a patent filed by Apple for a projector system, but to have this technology built into an iPhone would mean that the slim sleek design of the handset would be lost.

Videos of the future iPhone's such as the iPhone 7 and iPhone 8 with built-in projectors have been doing the rounds for a couple of years and it is definitely a gimmick that would be a big seller or would it? The Samsung Galaxy Beam 2 which has the built in projector hasn't really broken any sales records. Maybe this and the fact that the design of the iPhone would be compromised are the reasons why it hasn't been introduced. Still, we believe that it would be a great addition to the iPhone as long it isn't too detrimental to the design.

Transparent iPhone

This is something we have talked about on our other blogs a few times and we believe that even though it may give no improvements in performance, it would look very very cool…We know that the technology is out there and we know that Apple has filed some patents that hint towards the fact that they are looking at the possibilities of a transparent mobile device. Above all other things on the wishlist, we believe that this would be the biggest selling gimmick that Apple could introduce with the iPhone 10.



Better Speakers

The iPhone 6 does have good speakers but unfortunately they still are nowhere near the clarity of the htc one M9 speakers when turned up fully. So if HTC can do it, surely Apple have the technology to improve. Louder clearer speakers are certainly useful when making conference calls etc and the option of having more sound without having to carry a docking station and speakers around with you certainly appeals to us. Apple have the speakers at the base of the iPhone whereas many others have the speakers at the top, so maybe Apple may look at a change of design on the future models to try and improve the sound.

Improved Siri

Siri is good, but not that good. It is one gimmick on the iPhone that needs improvement if it is to keep up with Google Now's voice activation assistant. Siri integration with Internet of Things (IoT) and an offline mode would be good and a face to the voice would be a good little extra as of yet that is still not in the pipeline, but imagine your iPhone with it's own unique personal assistant tailored to your own specifications, each phone having your own personally designed friend and companion, an avatar which looks how you want it? It would be a definite winner with the younger generation.

Waterproof iPhone

It has been done by Sony and other manufacturers, so it must surely be somewhere in Apple's plans. The fact that you can now use smartphones to take pictures underwater is a great concept. Admittedly you will not be taking them on a scuba diving outing, but being able to have them drop in the bath or toilet without them being completely written off is very useful. To do is though it does need an enclosed design and currently, all waterproof handsets are very plastic, to say the least.

Would Apple review its design and make it plastic? We don't think so, but there are options it could look at that would ensure that the iPhone maintained its crown as the best-designed handset and gave you the waterproofing. Firms such as liquipel supply coatings for electronic devices that are invisible to the human eye but still give you the assurance that your iPhone would be OK if dropped in water. Maybe this kind of coating could be put on the handsets during manufacture? Never say never.

Memory card or portable memory option

The Apple cloud is good, but it is not always what you want. Sometimes it is good to have a memory card that you can simply transfer from one handset to another. If you want to transfer a large number of files to someone else's handset for example or even if you suddenly find that you don't have enough memory on your current handset and don't want to give yourself a monthly bill with Apple for a larger cloud backup. It has already been discovered that the iPhone 6 's' is to have a base model that comes with a 16G memory, with the introduction of Apple music, will this be big enough? The option of having a micro SD slot would be nice.

iPhone 10 Iris/Retina Scanner

Who doesn't want a secure smartphone? Fingerprint recognition is now utilised by many smartphones but it is known that when your fingers are damp it can be a problem unlocking your device. Iris recognition is the next step. Apple has looked at Iris recognition and a location context module that would ensure that the iPhone knows your location and then adjusts the security level required to unlock your handset eg Outside would require iris recognition, in your car fingerprint and at home a simple number code.




This will be a great addition to any handset and we do hope to see it introduced with the iPhone 7 and by the time the iPhone 10 is here it will be well tested and improved even more. Unlocking via your ear is being looked at by other manufacturers such as Amazon!
iPhone 10 launch is a way far i.e. around 5 years. Apple will be definitely thinking futuristically, to make sure it is a massive commercial success as well as a major leap forward in technology innovation. We will keep you informed on all the latest
iPhone 10 updates
and new as they happen.
Stay in touch, take care and don't forget to share your views in comments :-)