Verizon Motorola Droid X2 Android Phone: Review, Specs and Price
Verizon Motorola Droid X2 Android smart phone offers a fine set of improvements over its predecessor with Impressive performance, excellent display and build quality, comes bundled with tons of apps, good battery life.

Considering how popular the original Motorola Droid X was, providing users with a big, quick device able to run on a very dependable network, the Motorola Droid X2 had is a high-performance, low priced phone on a great network.

Fortunately for Motorola and Droid X fans, and for those sopping Android phones at a great price, that is exactly what the Motorola Droid X2 offers. With one of the fastest and most capable processors that has even found its way into demanding Tablet PCs, an improved display, and price that is lower than its predecessor while offering much better features and performance, the Droid X2 is attractive on many fronts.
Verizon Motorola Droid X2 Specs and Features
Verizon Motorola Droid X2 Android Phone has a good design and attractive features, equipped with 1GHz Dual-Core processor, 4.3 inch touchscreen QHD display with 24bit bright colors and 960 x 540 Pixel sharp image resolution.
Motorola Droid X2 also includes an HDMI output for high-definition HD 1080P mirroring on an external monitor or HDTV and 720p HD video recording capability. The DROID X2 weighs 5.74 ounces and measures 5.02 x 2.58 x 0.39 inches.
Its 1540 mAh lithium-ion battery is rated at up to 8 hours of talk time, and up to 220 hours (9+ days) of standby time. It runs on the CDMA 800/1900 frequencies as well as EV-DO, Rev A 3G frequencies. There are many other interesting features that you will encounter on the design of Motorola's Android Phone DROID X2 this. Here under is a complete list of Motorola Droid X2 Specs: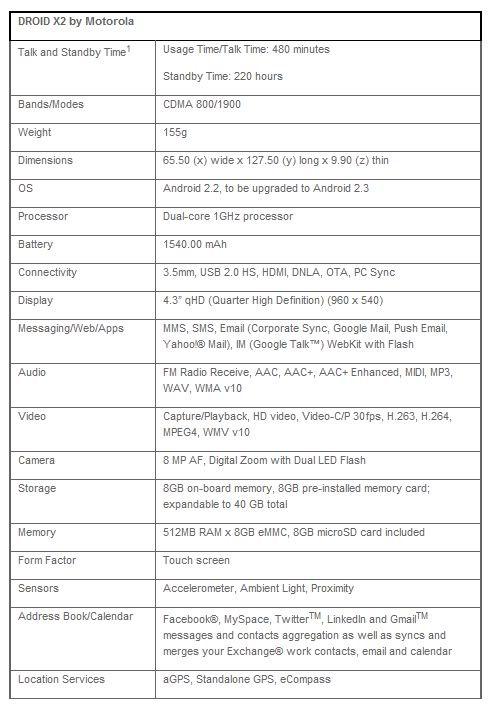 Verizon Motorola Droid X2 Review Video
Here under is a 7min long detailed video review of Motorola Droid X2 by Mike Perlman of InfoSync:
Verizon Motorola Droid X2 Price and Release Date
The Motorola Droid X2 is available in Verizon Wireless Communication Stores and Verizon Online store from May 26, 2011 for $199 with a new two-year contract.