Virgin Mobile Motorola Triumph: Release Date, Price and Specs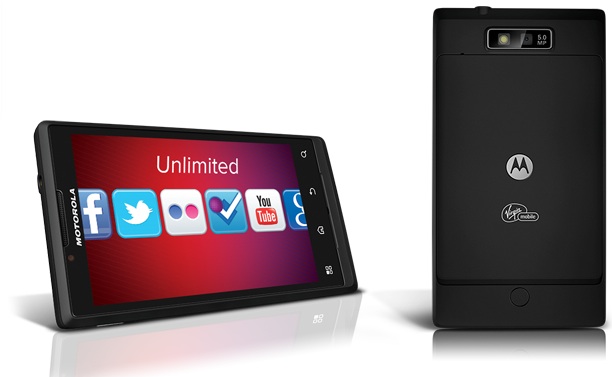 Motorola Triumph will be the new flagship device for Virgin Mobile that is also first Motorola device by the prepaid telecoms carrier.

Virgin Mobile Motorola Triumph release is a move to shift Virgin Mobile portfolio in the direction where Virgin Mobile customers are more interested in messaging, social networking, and browsing the Web instead of talking on the phone. As Motorola Triumph offers more-advanced features than its other devices.
Virgin Mobile Motorola Triumph Specifications and Features
The Motorola Triumph features a 1GHz processor, boats a wide 4.1-inch WVGA display, a 5MP camera on the rear, a front facing VGA camera for video calling and chatting, an HDMI out port and a MicroSD card slot that supports up to 32GB of external storage.New Motorola Triumph offers the Google experience and Virgin Mobile Live 2.0 for the music stream by Virgin Mobile.
you can get the Motorola Triumph with 1 GHz processor, 4.1 inch touch display, 2 GB internal memory, 5 MP camera on the rear, and VGA camera on the front. It also has WiFi, bluetooth, and an HDMI out. Unfortunately, it still runs on Android 2.2 Froyo, but you can expect the Android 2.3 Gingerbread upgrade somewhere in the future. That specs make the Motorola Triumph a mid-end Android smartphone. However, it is still a good offer, since it comes without a contract. Lets have a look at the phone specs in details:
Talk and Standby Time
500 min talktime, 300 hr standby
Bands/Modes
EVDO rA Data Network (1900 only)
Dimensions
4.80 x 2.60 x 0.39 (inches)
Display
4.1-in. WVGA
Weight
5.04 ounce (with battery)
Battery
1400 mAh
OS
Android 2.2
Connectivity
Bluetooth 2.1, 3.5mm audio jack, HDMI port
Network
Virgin Mobile
Camera
5MP AF Camera with Flash and 2nd Front-facing camera (VGA)
Audio
AMR-NB, AMR-WB, AMR-WB+, AAC, AAC+, eAAC+, WMA, MPEG-1 Audio Layer 3, QCELP
Video
HD Video Playback at 720p
Memory
Supports up to 32 GB expandable memory
Location Services
aGPS (assisted), sGPS (stand alone), Google Maps Navigation, Google Maps with Google Latitude, Street View and eCompass
Motorola Triumph will also be the first handset to come preloaded with the Virgin Mobile Live 2.0 app used to access the Virgin Mobile branded music stream. TheVirgin Mobile Live 2.0 is a social networking music application, which will provide Android users free access to the company's critically acclaimed music stream hosted by DJ Abbey Braden, as well as live music performance videos, and "check in" features at special events. All status updates made using the app will also sync with Facebook and Twitter.
Virgin Mobile Motorola Triumph Price and Pre-order
Virgin Mobile Motorola Triumph is available for pre-order now on Best Buy website. It is expected to ship between July 19 to 26, 2011 one can pre-order the Motorola Triumph for only $299.99 without a contract.
It may seem a little high if compared to higher-end phones from the big 4 carriers that mostly cost only $200, but of course that price comes with 2-year contract. It is quite different with the Motorola Triumph that comes without a contract and allows you to choose several affordable plans priced from $25 to $60 depending on how many minutes you want to have.
Virgin Mobile Motorola Triumph Release Date
While Best Buy began offering pre-orders for the highly anticipated Virgin Mobile Motorola Triumph, it is still unclear when the phone would actually be released. But the pre-order information reveals that July 19th 200 Release Date.
Virgin Mobile Motorola Triumph Review and Trailer
The Motorola Triumph will run Android Froyo and will be carrying a 1GHz Snapdragon processor. The mobile has dual cameras a 5MP camera with flash in the rear and a VGA front facing camera. That's a yes to video conferencing, of course.
The device features the Android Webkit Browser with v2.1 Bluetooth connectivity and HDMI port. The media centric smartphone comes in a dimension of 4.8 x 2.5 x 0.4 inches and the 4.1-inch display screen gives a screen resolution of 800 x 480 WVGA. Other specifications include a microSD card slot expandable up to 32 GB plus a 1400mAh battery.
This smartphone has all it takes to satisfy those who want to avoid a contract and get a device that can offer you most of the benefits that other high-end devices offer. Here under is a brief hands-on video of the Virgin Mobile Motorola Triumph: