Nokia C3: Mobile Review, Specs and Price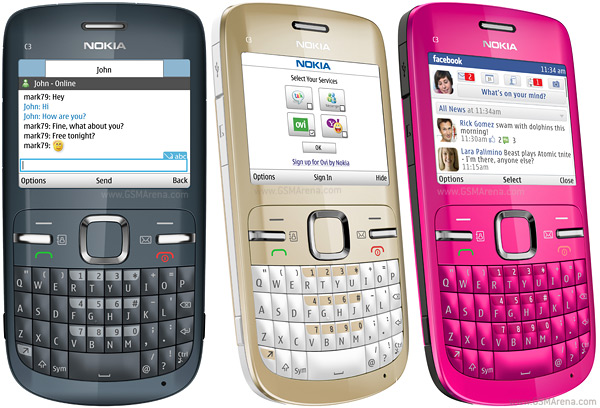 Nokia C3 is young and social, simple and reliable. Messaging and social networking are the very heart of this handset. But are they enough of a head-turner to become a phone's key selling points? Sure thing! Just add a pinch of charisma and hang a price tag fit for the masses and you've got yourself a recipe for a true love story.

Nokia C3 Mobile phone drew massive crowds and it seems success in Europe is only a matter of time with a price tag of about 100 euro. Compromises are always implied in this price bracket but the Nokia C3 does well to focus all attention on its strengths. It's a budget package no doubt about that but so wonderfully balanced. It has all the relevant features and the target audience isn't likely to miss what's not there.
A QWERTY messenger focused on the basics, the Nokia C3 is an excellent upgrade option for the budget-minded. And social networking isn't just a thing for marketing to work with. The full QWERTY keyboard, dedicated Messaging and Contacts keys, along with Wi-Fi connectivity round off a solid package that will give the right user all the performance they need.
Nokia C3 Mobile Specs and Features
QWERTY messenger bar
Quad-band GSM/EDGE
802.11b/g Wi-Fi support
Solid SNS integration on the homescreen and with dedicated buttons
2.4" 256K-color QVGA display with excellent sunlight legibility
2 megapixel fixed-focus camera
QVGA video recording at 15fps
Series 40 UI, 6th edition
Stereo FM radio with RDS, Visual radio
Bluetooth (with A2DP)
Standard microUSB port
microSD card slot (8GB supported, 2GB included)
3.5mm audio jack
Great audio quality
Reasonable price
Nokia C3 Disadvantages
No 3G
Low-grade camera, no autofocus, no flash
Poor video recording
S40 is outdated, never mind the visual updates
No multi-tasking
Doesn't charge off the microUSB port
No USB cable in the retail box
No office document viewer
No smart dialing
Nokia C3 Mobile Review
The Nokia C3 is a social gadget for the young. What's not to like if Facebook is your second home and you want to always stay in touch. Attractive design and the right feature set come at a price that many can afford. The Nokia C3 is so full of potential because it's suited for both emerging and mature markets.
In the low end, you will sometimes come across rare gems of phones that will surprise you with their styling and features. The Nokia C3 isn't one of them. The key word here is
enough
. The build, the connectivity, the interface even the imaging is good enough.
A 2MP fixed-focus camera isn't the kind to send your digicam into retirement it's good enough for photography you need to quickly share. The screen isn't perfect for media or browsing, there's no fast network data, you have a QWERTY keyboard but no document editing you catch our drift.
There isn't much to get excited about but we'll say it again the right users will find more than enough to get excited about. The Nokia C3 is a phone that wants to be in every pocket let's see if it is the right choice for you.
Nokia C3 Mobile Price in United States, India and Pakistan
Nokia C3 Mobile Price in United States is 114 USD
Nokia C3 Mobile Price in India is 5444 INR
Nokia C3 Mobile Price in Pakistan 9800 PKR